Atlantic Farm Mechanization Show Inc.
---
The Board of Directors are pleased to report that Farm Credit Canada will continue to be the Show Presenting Sponsor for 2015, 2017 and 2019.
---
Annual Meeting Highlights: Annual Meeting was held at the Algonquin Hotel, St. Andrews, NB on August 30 & 31, 2017.
All Directors have agreed to hold the present positions for another term. Brian Beaton will remain as Chairman.
The Atlantic Farm Mechanization Show is pleased to announce thatJames Carpenter, NB and John Greenough, NS were the winners of a $500.00 gift certificate from an Ag Dealer of their choice.
The Board of Directors of the AFM Show have contracted Frank Reade as Show Manager for the 2019 and 2021 Shows.
The current Board of Directors are pleased to welcome David Dykstra and Greg Burns as new Directors of The Atlantic Farm Mechanization Show.
---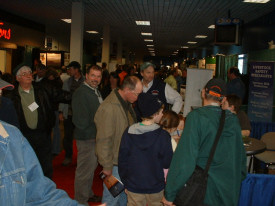 The Board of Directors and Organizers of the Atlantic Farm Mechanization Show offer their thanks to the Exhibitors and Atlantic Farming Community for their participation and attendance at the recent show held in Moncton, NB, March 9-11, 2017.
List of Directors: Brian Beaton, Chairman, NB, Peter Swinkels, Vice-Chairman, NS, Chuck Everett, Treasurer, NB, Brock Proudfoot, Director, NS, Dave Francis, Director, PEI, James McIver, PEI, Arnold Beyer, NB, Greg Burns and David Dykstra.
Show Manager/Organizer, Frank Reade
Exhibitors and Visitors: The Board would welcome any comments that would assist the Directors and organizers in improving or enhancing the show in any way. Post your comments by email at info@farmmechshow.com. We value your input and welcome any comments; after all, this is your show! Thank you.
Future Show Dates:
2019 - March 7, 8, 9
2021 - March 4, 5, 6
2023 - March 9, 10, 11